WELCOME!
As Unitarian Universalists, we believe in religious freedom, and encourage everyone to explore their own spiritual paths. We welcome you, whatever your background and wherever you find yourself in your journey.
In our congregation, we hope you find a place with new friends, enlightenment, and spiritual wellness… a place where you belong. We encourage you to visit us, connect with us and engage in the many opportunities this congregation has to offer.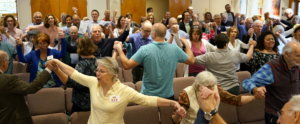 What UUs Believe
We come to this congregation from many religious backgrounds, secular philosophies, or none at all. We are guided by these seven principles, which we covenanted as a member congregation of the Unitarian Universalist Association. For more information explore UUA.ORG
Our goal is to put our faith into action, making this world better.
SIGN UP TO JOIN OUR MAILING LIST HERE
Worship Services
We hold Worship Service at 10:30 a.m.
You can also join our service online at 10:30 from the HOMEPAGE.
Upcoming Sunday service announcements are also on the Homepage.
Welcome Table
Please stop by our Welcome Table on Sundays when you arrive. You will be greeted by a member of our congregation, provided a name tag so our members and friends can greet you. Our Greeter will also answer any questions you may have. If you choose to sign the Guest Register, you can opt to receive our newsletter and weekly updates.
Children and Youth
There are religious education classes for children and youth during our service. Infant and toddler care are available during the Sunday service.
Your child will be greeted and invited to attend class. They will be accompanied to their classroom and introduced to their teachers. Children are also welcome to stay with you during the service.
Coffee Hour
After the service, we invite you to follow us to Dobkin Hall, at the rear of the building, for refreshments and conversation.
Membership
Whether or not you choose to be a member is up to you. We invite you to our Welcome Classes. The classes are open to all… member, friend or visitor. These classes are an opportunity to learn about Unitarian Universalism; meet people, and explore your spirituality as well as have some of your questions answered. We look forward to seeing you in the classes.
Accessibility
We strive to ensure that people of differing abilities feel welcome and fully equipped to participate in our community. Our facilities are accessible to those with limited mobility. The main entrances to both the Sanctuary and to Dobkin Hall are at ground level, with no steps. Accessible parking is located near the doors of the building.
Headphones are available, for attendees who may have difficulty hearing. Check with a Greeter just inside the Sanctuary doors to get headphones.
What to Wear
While members wear everything from jeans and shorts, to business-casual, dress overall is casual. Dress however you feel most comfortable. You will be welcome!
Where are we located?
Our address is:
4313 Lake Avenue
Wilmington, North Carolina 28403
For more information, please call our office at (910) 392-6454.
Please feel free to explore opportunities to serve our community, to learn and to connect (mostly by Zoom at this time) by browsing our website.